Our Learning
'Believe, Achieve, Succeed'
The Five-a-day approach
Supporting every pupil to succeed academically is our number one aim. To do this we follow a set of five core practices that can support all pupils, including those with SEND, to do just that.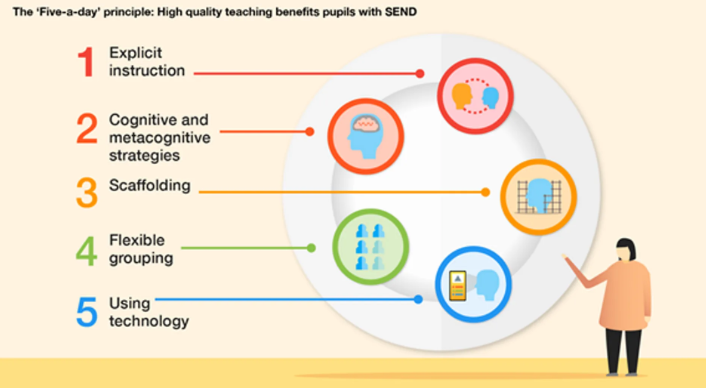 Teachers are supported through extensive CPD and instructional coaching to develop a repertoire of these strategies they can use flexibly in response to the needs of all pupils.
Building Learning Powers at Millbrook
Building Learning Power (BLP) is about helping young people to become better learners, both in school and out.
It is about creating a culture in classrooms – and in the school more widely – that systematically cultivates habits and attitudes that enable young people to become better learners; face difficulty and uncertainty calmly, confidently and creatively. It engages pupils consciously with the ideas and processes of their own learning in the knowledge that learning itself is learnable.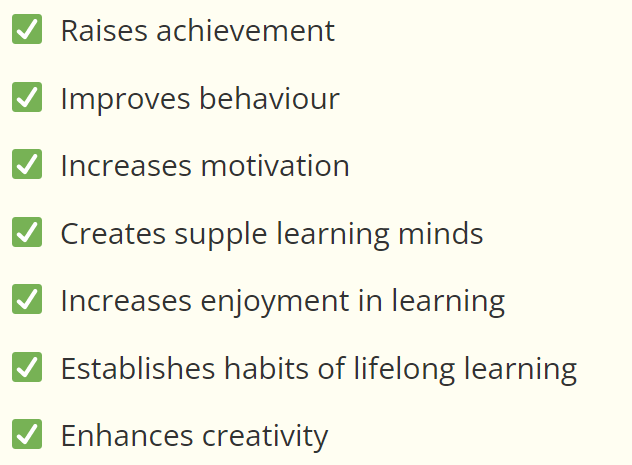 At the heart of our Millbrook motto 'Believe, Achieve, Succeed' is our aspiration for our children to be lifelong learners, confident to use their 'learning power' in whatever they choose to do. The six key learning skills that form our 'Building Learning Power' offer at Millbrook are integral to achieving this and an important part teaching and learning at Millbrook. Having launched Building Learning Powers (BLP) at Millbrook in January 2019, we then introduced Learning Power superheroes, Buzz and Mae, last year. We named our astronauts after Buzz Aldrin and Mae Jemison (a 'launch' in the many senses of the word!) These astronaut superheroes wear handy tools as part of their outfits which resemble our six key skills:

As listed above, we have a focus on teaching one of the skills explicitly each term but continue to recognise and celebrate the other five skills simultaneously. On Fridays, two children in each class are awarded 'BLP champion' lanyards for showing one or more of these skills. We love presenting these lanyards because this reward represents a tangible change in the learning habits of the children across a variety of lessons, an important step forward in their learning.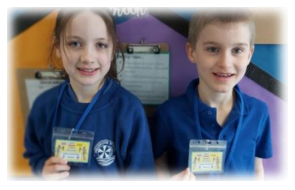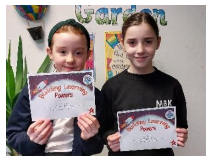 Furthermore, children are awarded 'BLP points' for displaying these learning behaviours during their lessons. They receive Building Learning Power certificates at key milestones including 50 merits, 100 merits and 150 merits.
To celebrate whole class achievement of Building Learning Powers, each classroom displays a Learning Power rocket. Class achievement of a learning power results in the children earning a star for their rocket. At the end of each term, this achievement is celebrated through extra break time.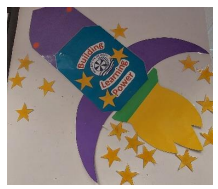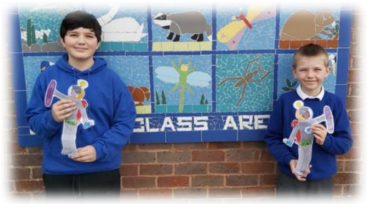 The design of our BLP superhero astronauts was created through a collaborative approach between Charlie Newton in Year 4 and Dexter Elliott in Year 6. We are so proud of their thoughtful ideas in choosing items that matched perfectly with each skill, as well as their fantastic artistic designs. We love our Millbrook learning superheroes and powering our learning with Buzz and Mae.
---
Building Learning Power Aims
Why is this project relevant for Millbrook?
In his book 'Powering Up children', Claxton explains that where teaching is focussed on developing learning attitudes and dispositions, schools can deliver good academic results while simultaneously turbocharging students' independence, initiative and life-long love of learning. We feel passionately at Millbrook that it is these characteristics that are important for our pupil's long-term success.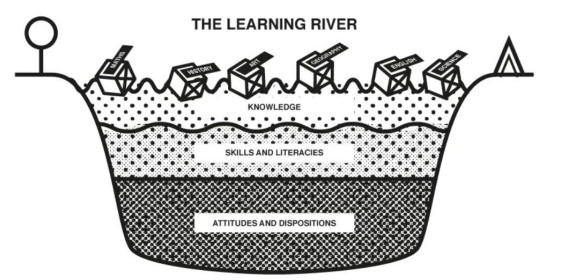 Claxton describes the attitudes and dispositions as the 'slower moving' layer in the learning river, which are formed over a longer period of time. Equally, this layer clearly takes time to change and develop, but Claxton corroborates that developing this learning layer is fundamental to unlocking the full potential of each individual child. Claxton's organises the seventeen learning skills into four areas including Resourcefulness (cognitive), Resilience (emotional), Reflectiveness (strategic) and Responsibility (social).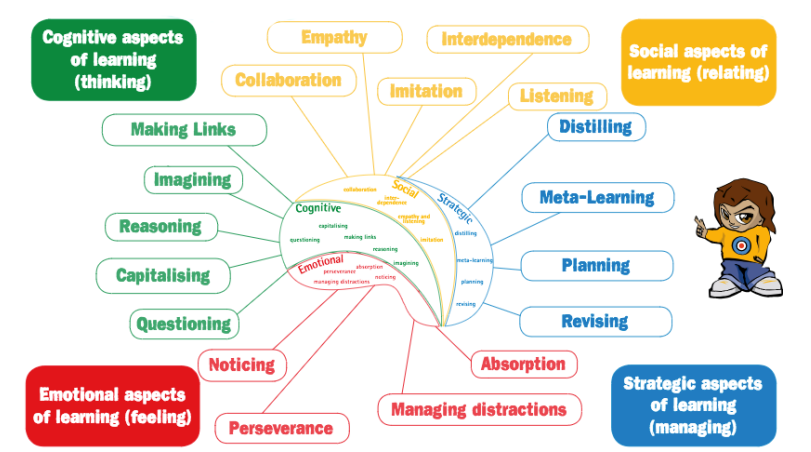 We have chosen 6 of these skills that span all four aspects of learning at Millbrook and plan to complete at least two full annual cycles of these six skills. We will then reassess whether to introduce new Learning Powers or continue with our chosen six skills