Science
Being a Scientist

Scientists study the natural and physical world. They look for patterns and explain how and why things are the way they are across our universe. To be a scientist is to enquire, observe and investigate in order to understand how things work.
Science is a core subject and at Millbrook Primary School it as seen as such. Our principal aim is to develop children's knowledge, skills, and understanding, as well an enjoyment of Science. We do this through a thinking, talking and doing approach. Rather than teaching science simply as a body of facts to be learned this approach emphasis the principles of scientific enquiry.
Thinking –children thinking and considering key questions
Talking – explaining to peers and adults their thoughts as well as commenting on the ideas of others
Doing – Being a scientist! Discovering for themselves and evaluating their scientific understanding
All science lessons have a key question which will create a sense of excitement and intrigue. These questions will stimulate discussions about scientific topics and create practical, creative and challenging lessons. For example:
What will humans look like in a million years?
Which rock is best for building a Roman bath house?
What would happen if the Earth span at half the speed?
We want children to understand the different science enquiry types and skills that they will be taught and use in their science lessons. By using the grid below, children will be able to discuss and identify which skills they will need in order to answer their key questions.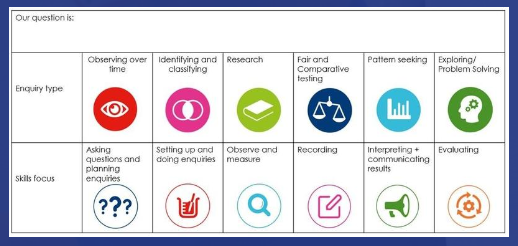 Teachers assess children's work in Science by making informal judgements as they observe them during lessons. On completion of a piece of work, the teacher assesses the work, commenting and feeding back as necessary. At the end of the year, the teacher makes a summary judgement about the work of each pupil in relation to the skills they have.
---
Science Leadership Team

Ms Cat Boaz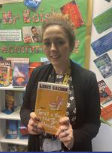 Mrs Beckah Wallace
Primary School teacher Cat Boaz wins top science award
Cat Boaz has won Primary Science Teacher of the Year Award.
https://www.oxfordmail.co.uk/news/20603072.charlton-primary-school-teacher-cat-boaz-wins-top-science-award/
The national award introduced in 2003 by the Primary Science Teaching Trust (PSTT) recognises and rewards outstanding primary science teachers. The awards are open to all current full time or part time primary teachers and Ms Boaz was one of just nine from across the UK to receive the award this year.
Ms Boaz was initially inspired to become a teacher after a flight to Greece during which she was sat next to a five-year-old passenger who spent the whole flight asking questions: how do planes fly?; what are clouds made from? She realised how much she enjoyed answering them. Ms Boaz called Oxford Brookes from Greece, applied for a late admission to do a PGCE, returned home and became a teacher.
In addition to receiving a £1,000 prize, winners automatically become a Fellow of the PSTT College where they can access many resources and benefits, including annual funding in excess of £500,000 to develop new projects, and further professional development to help raise the profile of science in their own school and beyond.
Ms Boaz recently led the organisation of science fairs in schools that culminated in a South Oxfordshire Science Fair Grand final held at Rutherford Appleton Laboratories. Prior to joining Charlton Primary School, Ms Boaz taught in a number of schools (across both primary key stages), was a Senior Lecturer at Oxford Brookes University and is now the Vale Academy Trust's Specialist STEM Teacher.
Science curriculum matrix
Science Layer 1 - Long-term plan and key concepts
Science layer 2 - knowledge and skills
Layer 3 - Example Science MTPs